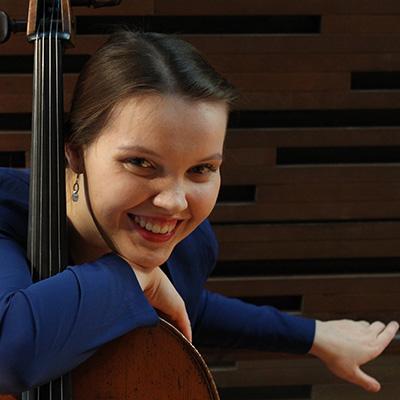 Saara Särkimäki began her studies at the Sibelius Academy in 2015, and graduated with her bachelor's degree in 2018. There, she studied in the classes of Tuomas Ylinen, Tuomas Lehto, and Martti Rousi. In 2019, Särkimäki was an exchange student at the Universität der Künst in Berlin, where she was a student of Konstantin Heidrich. In 2022 Särkimäki won the 1st prize in the Walter Gieseking Competition and was a finalist in the Turku Cello Competition. At the moment, Särkimäki studies as a student of Gustav Rivinius at the Hochschule für Music Saar.
Särkimäki began her cello studies at the pulla-scented Western Helsinki Music Institute, where she was a student of Sami Mäkelä and Marion Göbel. Särkimäki has also attended masterclasses with Marko Ylönen, Jens-Peter Maintzin, Jjian Wang, and Patrick Demengan.
Särkimäki has studied chamber music with Paavo Pohjola, Antti Tikkanen, and Paavali Jumppanen. In the spring of 2020, Särkimäki played as part of the Kakadu-piano trio in the final of the Ilmari Hannikainen Piano Chamber Music Competition, and in the fall of 2021, she was selected as the recipient of the chamber music stipend of the "Yehudi Menuhin Live Music Now Saarland" foundation.
Särkimäki is a member of the Helsinki Philharmonic, and plays on a Ciagoma Rivolta cello from the year 1810, on gracious loan from Pro Philharmonia ry. During her free time, Särkimäki enjoys quality ice cream and nature's peace.