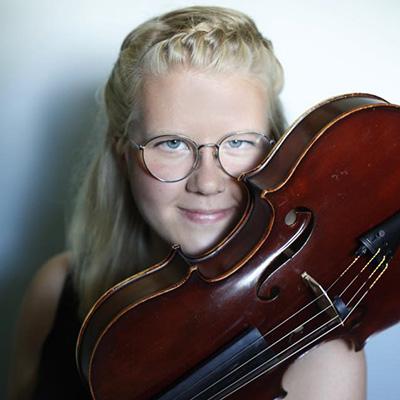 Vuokko Lahtinen's musicianship is defined by a love and trust for music's humanity and ability to strengthen empathy. As an artist, it is important to her to fortify the position of music as the voice of society, as well as bring art to a position of essential need for a community.
Lahtinen has participated in the Aurora Borealis Foundation's international climate change summit on Svalbard, and has participated in a musical role in the climate change evening of the Allegra Lab scientific communications organization.
She holds an ongoing playful collaboration with media-artist Otso Havonno particularly dear, as well as a share in the Spektrum Records label, which pioneers open mindedness.
Lahtinen has studied at the Sibelius Academy of the University of the Arts under Tommi Aalto and Pirkko Simojoki, and supplemented her studies at the Paris National Conservatory under David Gaillard and Nicolas Bônen. She is now continuing her studies at the Berlin University of the Arts with Ulrich Knörzerin.
Lahtinen plays regularly with her friends, performing at the Hvitträsk Chamber Music Festival, Toivakka Chamber Music Festival, the Kumaus festival, the Festival des Cordes de Loire, and as a member of the Ilinx Contemporary Music Ensemble.
As an orchestral musician she has performed with orchestras including the Finnish Radio Symphony Orchestra, Helsinki Philharmonic, Finnish National Opera, and the Herbert von Karajan-Academy of the Berlin Philharmonic.
Lahtinen has performed contemporary music as part of a concert of Finnish music in the Musikverein in Vienna, the 70th Birthday Concert of Jukka Tiensuu, as a member of the NYKY Ensemble, at the Kallio Contemporary Music Days and at the Flow Festival.
As a conducting student of Jorma Panula, she has conducted orchestras including the Kuopio Symphony Orchestra, Lappeenranta City Orchestra, and St. Michael's Strings.
Lahtinen's musical aspirations have been aided by, in addition to her mother, the Pro Musica Foundation, Paulo Foundation, TAIKE, the Foundation of Finnish Composers, and the Sibelius Academy Support Foundation.