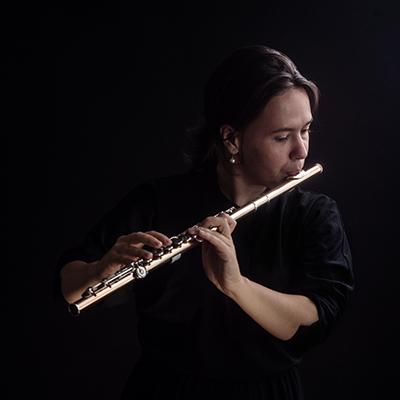 Italian-Swiss flutist Livia Schweizer began to study flute at the age of 8 at the Conservatory of Livorno (Italy) in the class of Mauro Rossi, and has won several prizes in different national competitions in Italy since the age of 13. After graduating from Livorno with the highest grade in 2014, Livia began her studies at the Sibelius Academy in the class of Mikael Helasvuo.
Since moving to Helsinki, Schweizer has been a very active freelancer proving in different occasions to be a very versatile musician that loves to engage with different kind of repertoire and perform in different music settings. She has had the opportunity to take part in several contemporary and experimental music projects, including projects with the NYKY ensemble, Korvat Auki, UMUU-ensemble, Eloa ry, and Tampering. She has also performed at festivals such as Flow Festival, Helsingin Juhlaviikot, UNM Festival and Musica Nova.
At the moment Schweizer is especially interested in how music and art can be a medium to connect with the environment. She has been an artist-in-residence at the Old Mine Residency in Outokumpu and at Villa Karo in Grand-Popo (Benin), and in the last few years she has developed a very strong interest towards improvisation and how it can be used to connect with space and to communicate with artists from different backgrounds and cultures.
She is a member of the Helsinki based Septad-ensemble, an ensemble focused on the concept of real time composed music, and of the Earth Ears Ensemble, an ensemble focused on contemporary music from lesser-heard voices.
Livia is also an active orchestral player; in 2018 she had her apprenticeship at the Finnish National Opera and she is a member of the Helsinki Chamber Orchestra. She has worked with the Jyväskylä Sinfonia, Pori Sinfonietta, Kuopio Symphony Orchestra and she served as substitute co-principal flute in Turku Philharmonic Orchestra and substitute piccolo player for Lahti Symphony Orchestra during 2021 and 2022 seasons.
In Spring 2019, Schweizer studied as an exchange student at the University of Southern California in Jim Walker's flute class. During her exchange, she had the possibility to perform in several concert of the Early Music Ensemble led by Adam Gilbert.
In 2021 she got her master's degree in flute and music pedagogy at Sibelius Academy, with minors in early music and contemporary music.
Her flute teachers in Finland have been Mikael Helasvuo and Hanna Kinnunen, and Jari Puhakka for the baroque flute.
While being a freelancer Livia is also a flute and music teacher for the International School of Music Finland in Helsinki.