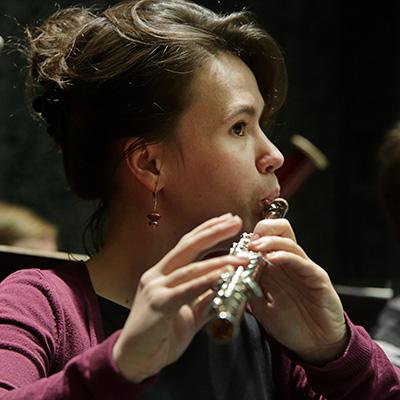 Italian-Swiss flutist Livia Schweizer began to study flute at the age of 8 at the Conservatory of Livorno (Italy) in the class of Mauro Rossi, and has won several prizes in different national competitions in Italy since the age of 13. After graduating from Livorno with the highest grade in 2014, Livia began her studies at the Sibelius Academy in the class of Mikael Helasvuo, further developing her versatile playing.
Since moving to Helsinki, she has participated in several contemporary music projects: with the NYKY-ensemble she took part in Flow festival and Helsingin juhlaviikot, as well as performing with the contemporary UMUU-ensemble, and played in different premieres of young composers in Italy, Finland, and Estonia.
Since experiencing the Glomus Camp in Natal (Brazil) in 2017 and meeting many different artists and musicians from all over the world, Livia realized that using music to create and communicate with artists and musicians from different backgrounds and cultures is one of her priorities.
In addition, in the last few years she has developed a very strong interest in improvisation and has led various projects in Helsinki with the aim of exploring the field of multidisciplinary arts, collaborating often with dancers and theater artists. She is a member of the Helsinki-based improvisation ensemble Hexad.
In 2018, Schweizer completed her apprenticeship with the Finnish National Opera. She is now a member of the Helsinki Chamber Orchestra and has performed often with the Helsinki Sinfonietta, playing under the baton of conductors such as Christoph Alststaedt, Santtu-Matias Rouvali and Leif Segerstam.
In the spring of 2019 Livia studied in Los Angeles as an exchange student at the University Of Southern California in Jim Walker's class. In Los Angeles she had the chance to be part of the Early Music Ensemble of the University of Southern California, led by Adam Gilbert.
At the moment she is completing her master's degree at the Sibelius Academy studying with Mikael Helasvuo and Hanna Kinnunen, with baroque flute as side instrument under the tutelage of Jari Puhakka. Livia is an active freelancer in Finland and she teaches for the International School of Music, Finland in Helsinki.