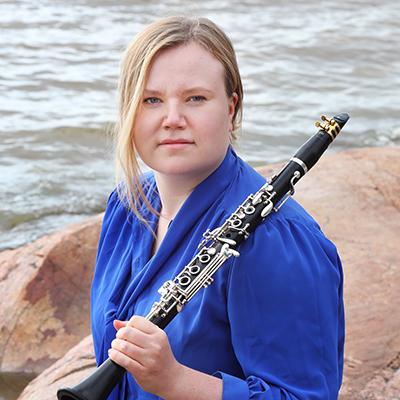 Helmi Malmgren is a countryside clarinetist, who has more recently made Helsinki her home. She performs in orchestras and festivals around Finland and is inspired when music becomes like a physical reaction in the body.
Chamber Music and other ensemble playing is very close to her heart, and performing with others has always been a very central part of her musicianship. She is a founding member of the Helmi-Quintet woodwind quintet and plays contemporary music in the Ääni-Collective. Powerful orchestral experiences include time in the Helsinki Philharmonic, Avanti! Chamber Orchestra, and Sinfonia Lahti.
In addition to orchestral and chamber repertoire, Malmgren can often be heard performing contemporary music, and she actively seeks out diverse and different projects. She enjoys working directly with contemporary composers trying to discover new ways and techniques to fulfill their visions, and has performed the premieres of many classics-to-be in Finland and around the world. Malmgren is equally at home in multidisciplinary projects. Recent collaborations have included work with visual artist Heli Penttinen and dancer Laura Koistinen.
Malmgren studied at the Sibelius Academy with Harri Mäki, Olli Leppäniemi, and Asko Heiskanen. She also spent valuable time on exchange at the Norwegian Music Academy and Paris Conservatory