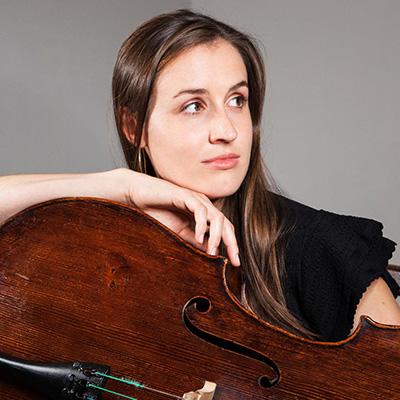 Laura Martin is a very versatile musician. In addition to her passion for the classical music repertoire, she always had a strong interest in art in general and likes to experiment and see how they can interact and enrich each other to deliver a specific message. She likes to think of herself as a multi-faceted artist, on one side the classical cellist, and on the other side the artist working with different art forms and reflecting on society.
From concert-exhibitions to improvised performances with dancers, Laura's latest performance mixing different art fields was "The Taste of Remembrance", as part of the Helsinki Butoh Festival in November 2020.
Martin is one of the rare musicians to have built her own instrument. She was then 17, and this cello became her musical partner for several years. This unforgettable process opened to her the universe of sound-making from its deepest origin.
Originally from Paris, Martin did her Bachelor studies in Belgium at the Brussels' Royal Conservatory, in the class of Marie Hallynck, and then graduated from her Master at the Sibelius Academy in 2018 where she studied with Martti Rousi. She has then been asked to be Cello Assistant in the class of Martti Rousi.
Martin has participated in various projects and masterclasses including the Festival Pablo Casals, the Villecroze Academy, the Cello Biennale of Amsterdam (2016), the 9th Osaka chamber music competition, and the Creative Dialogue IX with the composer Kaija Saariaho and the cellist Anssi Karttunen.
Laura Martin has also collaborated with artists such as violinist Mihaela Martin, pianists Kyoko Ashimoto, Martti Rautio, Valeria Resjan, Irina Zahharenkova, and soprano coloratura Piia Komsi.
In the summer of 2018, she was invited to be a Professional Performance Artist at the Boston Music Institute's 12 Hour Masterclasses with members of the Boston Symphony Orchestra and participated in the music festival of Santander in Spain.
More recently, in February 2019 she created CelloFest.fi with Martti Rousi, the first-ever International Cello Festival in Finland.
Based in Helsinki, Laura is the principal cellist of the Helsinki Chamber Orchestra and regularly works with various orchestras such as the Helsinki Philharmonic Orchestra, the Finnish Radio Orchestra, the Finnish National Opera and Ballet and the Lapland Chamber Orchestra, in addition to her activity as a chamber musician.