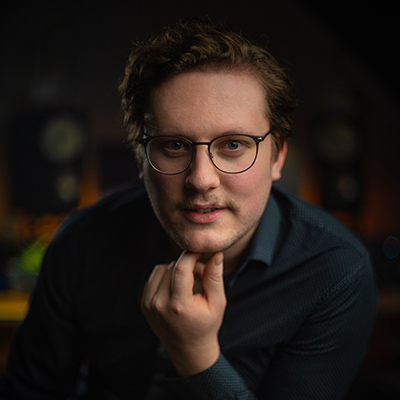 Joel Ward is an Anglo-Finnish audio engineer and musician. Originally a trumpet player, later a bass player, and now primarily a singer, Ward is also a remarkably experienced sound technician despite his young age. He graduated from the University of the Arts, Helsinki Sibelius Academy's music technology program with a bachelor's degree, and is currently pursuing a master's degree in the same program. In the realm of technology, Ward sees recording and mixing as his primary strengths, but is also an active live-sound production artist.
As a composer of electronic art music, Ward's works have been heard at, among others, the Sibelius Academy MuTeFest and performances of the EMO ensemble. The Helsinki based men's choir Akademiska Sångföreningen commissioned a series of sound-art works from Ward, which were performed as part of the choir's KRAFT concert in 2022.
Ward got his first contact with studying classical singing with his grandmother Päivi Heikinheimo and later received instruction at the Sibelius Academy with Kristjan Mõisnik, Hannu Niemelä and Rabbe Österholm. A passionate choir and ensemble singer, Ward sings in the Helsinki Chamber Choir, Sibelius Academy Vocal Ensemble, and Olaus Petri Kören, as well as gigs with the Helsinki Music Centre Choir, Laulu-Miehet, and the EMO Ensemble.