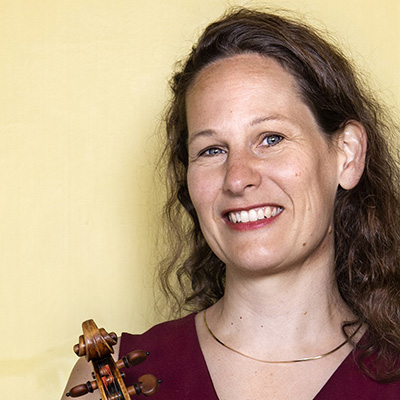 Violinist Malin Broman is a respected and in-demand violin soloist, artistic director, chamber musician, teacher, and orchestra leader.
She is a founding member of the Kungsbacka piano trio, which has performed in, among others, Carnegie Hall, the Concertgebouw, Wien Konzerthaus, and the Cologne and Berlin Philharmonie halls.
Broman was a member of the well-known and much-recorded Nash Ensemble from 2004-2010, with whom she made her BBC Proms debut. Her most recent ensemble is the Stockholm Syndrome Ensemble, consisting of some of Europe's best chamber musicians. Broman also performs frequently as a duo with her husband, pianist Simon Crawford-Phillips.
Broman has served as first concertmaster of the Swedish Radio Symphony Orchestra since 2008. She also works as a visiting concertmaster for some of the most famous orchestras in the world, including the London Symphony Orchestra, Chamber Orchestra of Europe, and the Mahler Chamber Orchestra.
In 2002 the Academy of Halland County awarded Broman for her musical achievements, and in 2008 she was selected as a member of the Royal Swedish Academy of Music. Right now, she works as a viola professor at the Edsberg Music Institute in Stockholm.
Broman has recorded over 30 albums for labels including Hyperion, NAXOS, BIS; and Channel Classic. She performs on the Järnåker Foundation's 1709 Stradivarius violin and 1861 Bajoni viola.
Broman worked as the artistic director of the Musica Vitae Chamber Orchestra 2015-2020. She has been the artistic director of the Ostrobothnian Chamber Orchestra since fall of 2019.