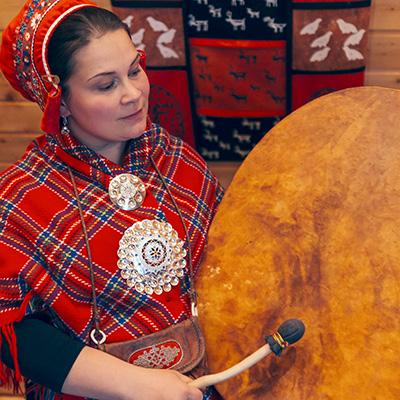 Anu Magga is a Sami reindeer farmer, entrepreneur, and artist who holds traditional Sami joik and storytelling close to her heart. Magga has performed joik since her school days, and she sought to enhance her storytelling skills with a degree from the Lapland University as a Story Master.
In addition to joik and storytelling, Magga other great passion is food, from which she has created a career. She runs two restaurants on Luosto, where her creativity can be seen and tasted on the plate. In her front yard, the Kota restaurant of the Jaakkola Reindeer Farm provides an incredible milieu for an all-encompassing dining experience.
During an evening in the Kota, Magga leads her listeners on an interesting trip into Sami mythology, belief, and joiks, as well as opens the world of the iconic reindeer with the help of poetry.
This eventful evening also includes tasting of Lapish tapas, where diners can taste reindeer, local fish, wild herbs, and berries from the nearby forest.