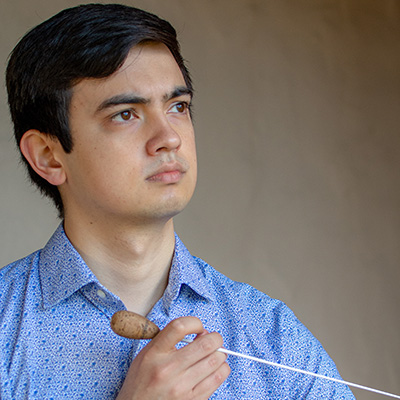 Artistic director of the "Sounds of Luosto" festival, Aku Sorensen (born in Santa Clara, CA) has recently completed a master's degree in conducting at the Sibelius Academy of the University of the Arts, under the tutelage of Sakari Oramo. He has previously received tuition from such conductors as Jorma Panula, Hannu Lintu, Johannes Schlaefli, Sir Roger Norrington, Peter Eötvös, and Jukka-Pekka Saraste.
As a guest conductor, Sorensen has worked with orchestras such as Sinfonia Lahti, the Lapland Chamber Orchestra, the Jyväskylä Sinfonia, the Ostrobothnian Chamber Orchestra, Turku Philharmonic Orchestra, and Tapiola Sinfonietta. Sorensen was also named the chief conductor of the Helsinki University Symphony Orchestra in the beginning of 2022.
A strong believer in the importance of musical education, Sorensen has conducted a number of youth ensembles, including the Palo Alto Chamber Orchestra, the San Francisco Symphony Youth Orchestra, and the Western Helsinki Music Institute Chamber Orchestra. He also served as the conductor of the "Kuule Minä Sävellän" scheme in 2020, which provides young people the opportunity to compose and have their pieces premiered by professional ensembles.
Sorensen also holds a Bachelor of Music from the Sibelius Academy in violin performance, completed under the guidance of Merit Palas. As a violinist, he belongs to the founding members of the Helsinki Chamber Orchestra, and served as the ensemble's concertmaster for many years.
Photo Mario Ramirez