The second portion of the Sounds of Luosto photography competition, kaamos and early winter, has ended, and the top three have been selected! This round of the competition received 50 submissions, from which Rovaniemi based photographer Irma Varrio has selected her three favorite winter photos.
"Early winter and kaamos inspired photographers to take photos of traditional, pastel-colored frosty landscapes and entrancing northern lights, as well as more experimental photos enjoying the passing tones of winter. From the applications, a strong top three emerged, very much different, but each of them with a powerful spirit that was present in the Lappish light that dominates in all three."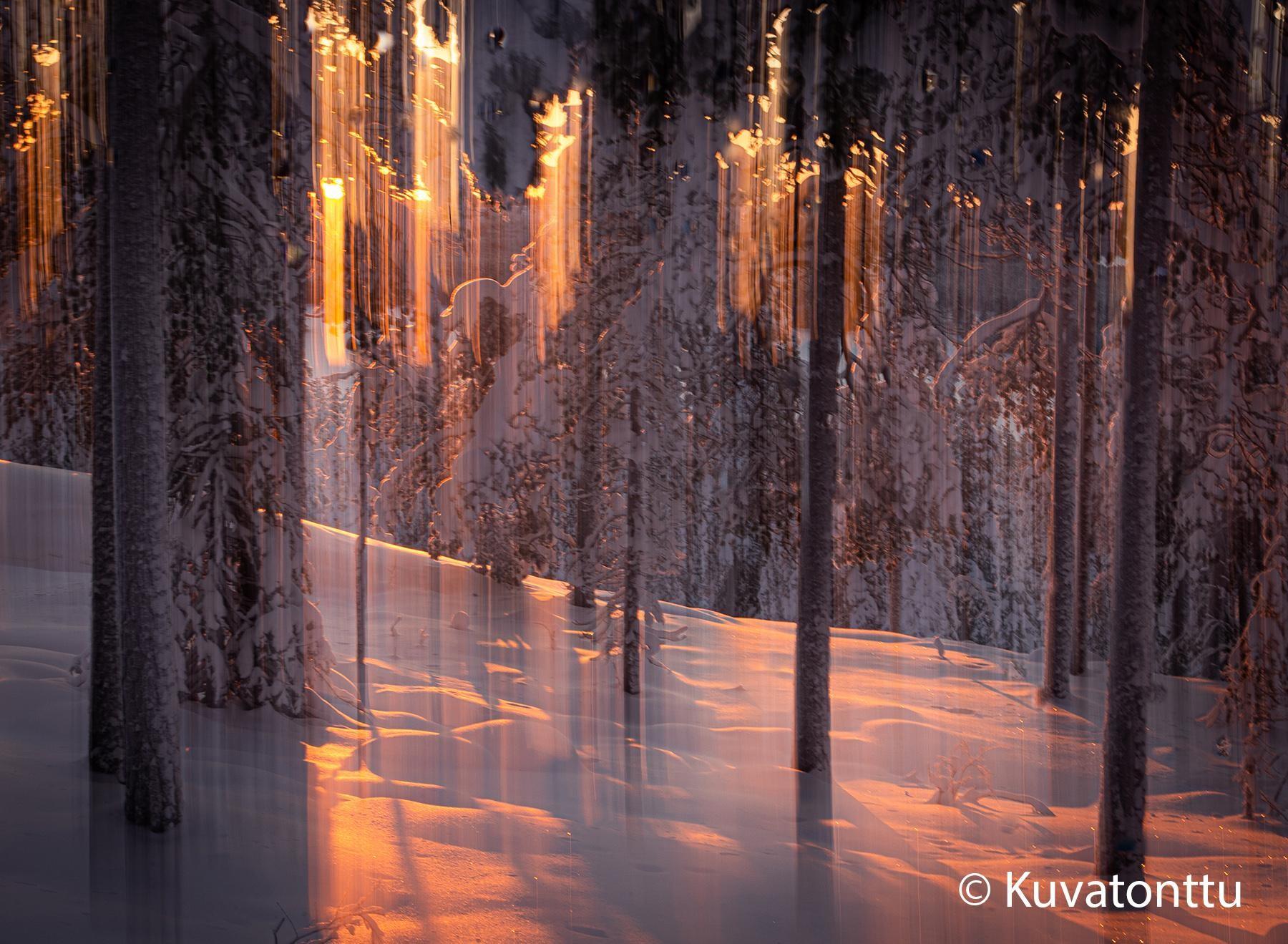 Urkupillit – Organ Pipes
A golden, story-like moment in a wintery forest. By moving the camera in a vertical motion, the photographer has created a uniquely personal capture, where the light creates the namesake "organ pipes" amid a quiet arctic forest. The muted tones of kaamos time are warmed by the momentary warm light of the early afternoon. The image is intersected by the rhythm of upright tree trunks and pillars of light.
Entry by pseudonym Kuvatonttu
---
Koiju Malla ja kuu – A Malla Cot and the Moon
A balanced and strong landscape photo, where the composition is completed by the golden shard of the moon, framed by gnarled branches. The photo features an interesting photo angle, where the strong foreground elements grant the photo depth, while also drawing the eye along the waves of snow towards the snowy fell peaks in the background. The purple colors of kaamos are reflected in the sky, where clouds are sketched over the landscape with large brushstrokes.
Entry by pseudonym Katinlieko
---
Kaamoksen valoa – The Light of Kaamos
An atmospheric winter photo, where a beautiful, soft-featured bokeh in the background grants a contrast to the in-focus bird and branch. A delightful light, which gives the photo a wonderful January winter-forest feel, which deepens the pictures cold-warm color contrast. Sensitive, almost insignificant, but at the same time a strong capture, where creative framing and use of light crystalizes a small moment of the north.
Entry by pseudonym Tapion tytär