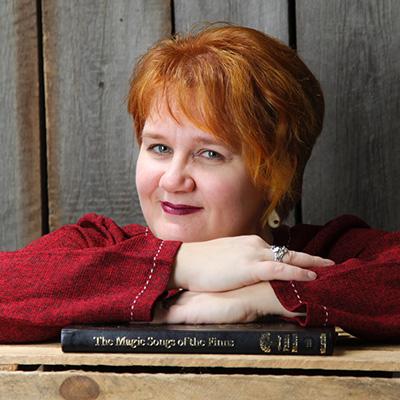 Tiinaliisa Multamäki, known by her artist's name Louhistiina, is a Sodankylä based orator, director, and fine-arts entrepreneur. In addition to her performing work, she has written monologues, plays, and short movies, as well as directed plays, oratory performances, and short movies.
Multamäki aims to use her art to convey knowledge and bring new perspectives into the conversation. She has written and directed Kova luu, a play based on a childhood development thesis examining the elementary school memories of young prisoners. She has also written a monologue about depression, accompanied by solo cello.
Multamäki's oratory work has focused on old Finnish poetry and particularly folk poetry. In poetry and narration, she is particularly interested by the rhythm of words. For this reason, works by the old masters such as Hellaakoski, Koskenniemi and Manner are frequently found in her repertoire. Multamäki often connects oration with live music or digital soundscapes in her performances.
In 2021, she published an hour long poetry collection named Neljäs ulottuvuus in collaboration with musician George Bandoek Apostolakis, which was based on the Eeva-Liisa Manner poem "Lapsuuden hämärästä".