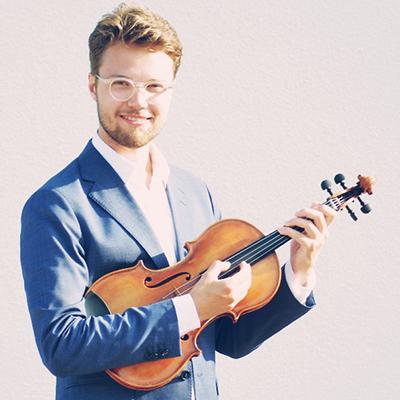 Violist Max Nyman graduated from the Sibelius Academy in the Spring of 2020. His most important teachers have included violists Atte Kileläinen, William Coleman and Steven Dann, as well as violinist Jari Valo and chamber pianist Timo Koskinen.
Having participated in the apprenticeship program of the Helsinki Philharmonic in 2016, Nyman has had the opportunity to perform in the ranks of Finland's most important orchestras, including the Finnish Radio Symphony Orchestra, the Finnish National Opera orchestra, and the Avanti! Chamber Orchestra. During the 2021-2022 season, Nyman has played as a substitute in the Helsinki Philharmonic and spent time as the visiting principal violist of the Lapland Chamber Orchestra.
Nyman is a founding member of the international Versoi Ensemble, which brings together young graduates of the Sibelius Academy and the New York Julliard School. Together with this ensemble, Nyman has performed in the Kaufman Music Center, Dakota Building, The UN Headquarters, Helsinki Music Centre, and the Kyrö Distillery as part of the Kyrö Festival, and has performed with artists like Osmo Vänskä and Anssi Karttunen.
Nyman had an opportunity to deepen his understanding of contemporary music and improvisation as a member of Karttunen's and Magnus Lindberg's Creative Dialogue-workshop in France in the fall of 2021. Max is also interested in historical performance practice, which he has studied in Salzburg at the Mozarteum as a student of Reinhard Goebel, as well as in Finland with Minna Kangas and Kreeta-Maria Kentala. He has performed on period instruments in ensembles such as the Finnish Baroque Orchestra and Ensemble Nyland.