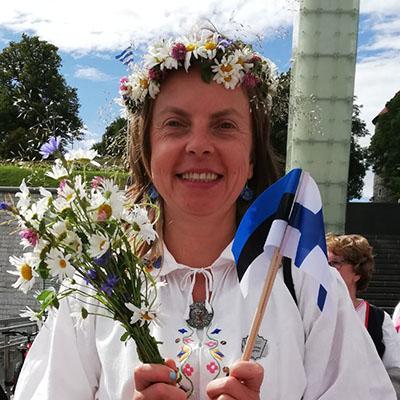 Kadri Joamets, the Tartu-born conductor of the Seitakuoro choir, began her musical life as a pianist and accordion player.
She began her choral conducting studies in 1988 as a student of the Heino Elleri Conservatory in Tartu. There she studied with well known Estonian choral conductor and pedagogue Alo Ritsing. After graduating, she moved on to the Estonian Music Academy in Tallinn to study with Elo Kaarepere. She graduated from the Music Academy with a degree in choral conducting in 1998.
Joamets has worked with the Rovaniemi based Seitakuoro since 1999. These days, she conducts numerous choirs in the area, many of which have published recordings under her direction.
Joamets particularly enjoys working together with other professionals and amateurs. She has been a part of organizing hundreds of different concerts and other musical events in Lapland over the years. She has previously collaborated with such ensembles as the Lapland Chamber Orchestra, the Lapland Soldier's Band, the Kemi City Orchestra, and the Ostrobothnian Chamber Orchestra. Collaborations with choirs have stretched from Oulu to Ivalo.
Joamets has received numerous awards, including the Osuuspankki Helmi-award, the Rovaniemi cultural-act award, and the Lapland culture award.