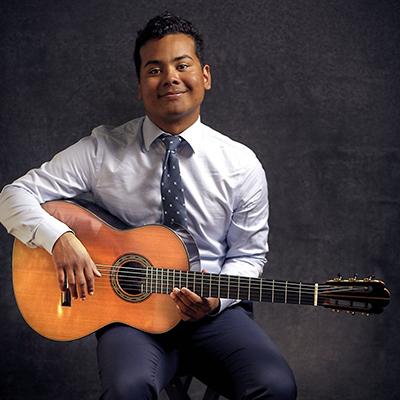 Joona Lintunen began playing the guitar at the age of 9 as a student of Ilpo Vuorenoja at the Huittinen Music Institute. During the three years that followed, he completed all three base level examinations and moved on to the Palmgren Conservatory in Pori to study with Juha-Pekka Peltonen. In 2013, Lintunen was selected to study in the Youth Department of the famous Sibelius Academy, now with guitar teacher Andrzej Wilkus. In the fall of 2015, he was accepted to the full degree program, which he graduated with a Master's in Music in December 2020. During this time, he studied with Jukka Savijoki, Andrzej Wilkus and Petri Kumela. He also studied for a year with professor Antonio Duro during an exchange year in Seville.
Lintunen has also gathered experience from countless international masterclasses, where he has studied with such names as Tilman Hoppstock, Judicael Perroy, Lorenzo Micheli, Lukas Kuropaczewski and Margarita Escarpa.
In addition to guitar, Lintunen has studied both classical and pop-jazz singing. He completed a minor in pop-jazz voice during his studies at the Sibelius Academy, including a D-level examination.
Lintunen has performed around the world, including performances in Italy, Spain, and Turkey. Engagements in Finland have included performances at the Finnish National Opera, the Finnish Culture Foundation's gala, and appearances at the Sibafest, Tampere Guitar, and Kitara Nova festivals. Lintunen has also been heard as a guest on the Kulttuuriykkönen radio program.
Joona is known for his warm stage charisma and joyful performances.