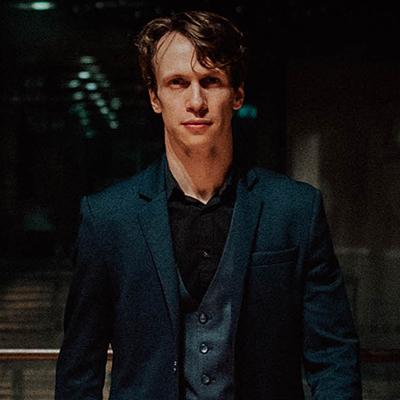 Described as a refined conductor with a genuine passion for music, James S. Kahane has been led to conduct first-rate orchestras such as the Finnish National Radio Symphony Orchestra, the Helsinki Philharmonic Orchestra, the Lucerne Festival Strings, and the Gstaad Festival Orchestra, and presently holds the position of Principal Conductor of the Helsinki Chamber Orchestra and Conductor of the Polytech Orchestra in Finland. Aged only 21, he was chosen to be Assistant Conductor to Susanna Mälkki at the Helsinki Philharmonic Orchestra, where he served until Autumn 2018.
During the previous seasons, James has been invited to the Lucerne Festival Conducting Masterclass (out of more than 360 candidates) with Bernard Haitink, to the prestigious Tanglewood Music Festival in summer, and to the Deutsche Dirigentenpreis 2017 (German Conductors' Awards), where he was one of the 12 competitors to conduct the WDR Sinfonieorchester and the Gürzenich-Orchester Köln. Prior to that, he was the youngest selected conductor for the Gstaad Menuhin Festival, where he was later chosen by Neeme Järvi to conduct in an official festival concert. In 2018, James has been solicited by Kristjan Järvi to conduct the Baltic Academies Orchestra in Berlin, as part of their first international tour, and the following year, he was awarded a fellowship to attend the Atlantic Music Festival in the United States. In Spring 2020, James was invited to assist Finnish conductor Hannu Lintu at the Orchestre de Paris.
Other orchestras he has conducted include the Lahti Symphony Orchestra, the Ostrobothnian Chamber Orchestra, the Tapiola Sinfonietta, the Jyvävskylä Sinfonia, St. Michel Strings, the Triangle Orchestra, the Francophonia Orchestra, the Glasperlenspiel Sinfonietta, the Pori Sinfonietta, the Joensuu City Orchestra, the Järvi Academy Symphony Orchestra, the Triangle Orchestra, the Lithuanian State Symphony Orchestra, and the Rehovot Symphony Orchestra. Proficient in various genres of music, from early baroque up until the music of our times, James was a Guest Conductor at the NYKY Ensemble, the Hurra Barockorkester, the Sibelius Academy Baroque Orchestra, and the Buchmann Mehta School of Music Contemporary Ensemble. Further engagements this season include concerts in Finland and the Netherlands.
James is a founding member and the Principal Conductor of the Helsinki Chamber Orchestra, a Finnish orchestra born in Autumn 2018 and specialized in the Chamber Orchestra repertoire.