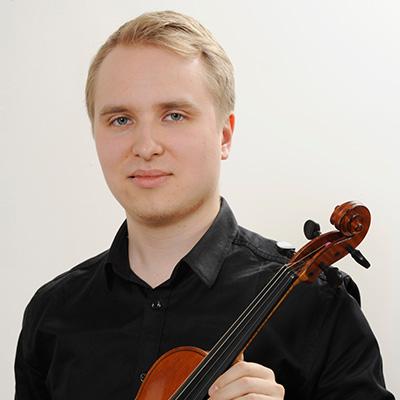 Photo Akvile Sileikaite
Finnish violinist Elias Nyman has studied with Ilya Gringolts at Zürich University of the Arts, where he has completed a Master's in Performance and a specialized soloist degree program. He has also studied at the Sibelius Academy in Helsinki with Merit Palas and Antti Tikkanen, and at Jyväskylä University of Applied Sciences with Anatoli Melnikov. He has been guided by Monika Baer, Michael Biehl and John Holloway in historical performance practice.
As a leader Nyman has worked with the Lapland Chamber Orchestra, St. Michel Strings, Uuden Ajan Ensemble and others, and as soloist he has appeared with the Südwestdeutsche Philharmonie in Germany and with the Filharmonie Hradec Králové in Czech Republic. He has collaborated with Raphael Wallfisch, Jonathan Stockhammer, Marc Kissóczy, Erkki Korhonen, Marko Hilpo, Kari Kriikku, Helena Juntunen, Stefka Perifanova, Alexander Boldachev, Jaakko Kortekangas and Ari Angervo. Festival performances include Organ Night & Aria in Espoo, Kaivos Festival, Focus Contemporary – Zürich West, and Varkauden KesäKlassinen.
Nyman has been generously supported by Martin Wegelius' memorial foundation, Jenny and Antti Wihuri's foundation, Zangger-Weber foundation, Paulo foundation, Vpl. Pyhäjärvi foundation, Lions Club Muurame and Taike. He plays on a violin by Mika Lahtinen, made in 2012 in Jyväskylä, Finland.