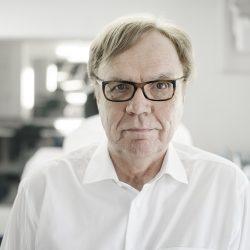 Eero Heinonen's career was launched with the first prize in the National Maj Lind competition in 1966. He studied privately with Astrid Joutseno in Turku, with Tarmo Huovinen in the Turku Music Institute and with Dmitry Bashkirov in the Moscow State Conservatory. He was a finalist in the International Tchaikovsky Competition 1974.
Eero Heinonen's large concerto repertoire includes the complete Mozart and Beethoven concerti as well as romantic and contemporary works. The whole Mozart series was performed with the Helsinki Chamber Orchestra and Okko Kamu in the 1980´s. He has performed Mozart also with the Stockholm Sinfonietta, the Luzern Festival Strings, the Moscow Chamber Orchestra, the Franz Liszt Chamber Orchestra and the Tapiola Sinfonietta.
He has appeared as a soloist with several Scandinavian and European Symphony Orchestras and performs in Finland with the Radio Symphony Orchestra, Helsinki Philharmonic and Lahti Philharmonic.
Eero Heinonen's solo recital venues include the Berwald Hall, Stockholm, the St. Petersburg Philharmonia, the Casals Hall, Tokyo, the Wigmore Hall, London and many international festivals. As a soloist and chamber musician he has performed in many music fstivals.
As a chamber musician and lied-pianist he has established partnerships with musicians such as Miriam Fried, Elisabeth Bathiashvili, Liana Isakadze, Arto Noras, Martti Talvela, Tom Krause and Peter Schreier.
Eero Heinonen has recorded for BIS, Finlandia and Ondine labels and has made numerous radio recordings in Finland and abroad. His recording of the complete solo piano music of Sibelius has been praised in the world press, and he has played Sibelius recitals in Stockholm, Berlin, Paris and London.
Since 1977 he has taught at the Sibelius Academy where he currently holds the position of docent lecturer. He is well sought after as a pedagogue on international music festivals and conducts masterclasses in many Scandinavian conservatories and academies.
Eero Heinonen has been awarded the Danish Sonning stipend in 1979, the prestigious Finland-prize by the Finnish Ministry of Culture in 1999 and the medal of the Sibelius Society, Hämeenlinna in 2000.