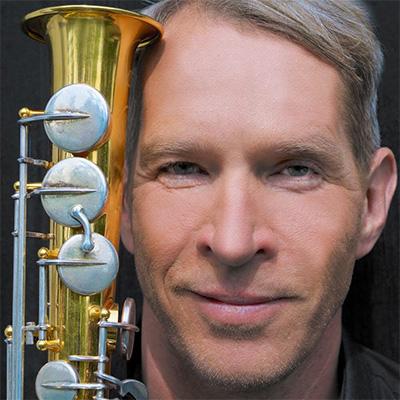 Since his Carnegie Hall debut in 1992, Anders Paulsson (1961) is widely recognized as one of the finest soprano saxophonists in the world.
His musicianship has inspired a succession of over 50 international composers to write solo concertos and chamber music for him.
He has performed concerts in 27 countries and in major music centres like Alice Tully Hall in New York, Berlin Philharmonie, Concertgebouw Amsterdam, Wigmore Hall in London, Palau de la Musica in Valencia, Moscow International Performing Arts Centre and Kitakyushu Performing Arts Centre in Japan. In 2012 Anders Paulsson was awarded the Royal Gold Medal Litteris et Artibus for his prominent artistic achievements as soprano saxophonist.
Paulsson has performed over a thousand concerts as a soloist and released 24 CDs. His pioneering CD recording "Swedish Concertos for Soprano Saxophone" with music by Anders Eliasson, Rolf Martinsson & Sven-David Sandström has received high praise in Gramophone.
He has performed as soloist with the Royal Philharmonic Orchestra in Stockholm, the Swedish Radio Symphony Orchestra, Gothemburg Symphony Orchestra and St. Petersburg Philharmonic and has collaborated with conductors such as John Storgårds, Lü Jia, Okku Kamu, Eva Ollikainen, Johannes Gustavsson, Fabio Mastrangelo & Lan Shui.
After classical saxophone studies at the Royal College in Stockholm and with Jean-Marie Londeix in France, a Fulbright ITT International Fellowship enabled him to study jazz with Joseph Allard and Bob Mintzer at Manhattan School of Music, New York City where he earned a Master's Degree in Jazz Performance in 1986.
As a composer, Anders Paulsson was awarded "The Golden Clapperboard" for best original film music in 1994 together with Johan Söderqvist. 2013-2015 Anders Paulsson was Composer-in-Residence at the MIAGI Youth Symphony Orchestra in South Africa and composed Celebration Suite for their 20th Jubilée of Democracy.
Many of his performances have been broadcast on international television and radio and his recordings have received high acclaim from music critics and audiences worldwide. His compositions are published by Gehrmans Musikförlag.
At the Nobel festivities in 1993 Anders Paulsson performed for Nelson Mandela when he received the Nobel Peace Prize and for the Nobel Prize winners of Medicine in 2003. Anders Paulsson seeks to use music to promote international bridge building, peace and biosphere stewardship.
Paulsson is the co-founder of Coral Guardians, an organization that combines music and science to raise awareness about the world's coral reefs and what is needed to safeguard them for future generations.
A highlight of this endeavor is Anders Paulsson ́s Symphonic composition Kumulipo Reflections:the Coral Symphony. The world premiere with the Hawai ́i Symphony Orchestra, conducted by Grammy winning JoAnn Falletta, featured the Hawaiian Creation Epic Kumulipo performed by Aaron Mahi. Paulsson's coral reef anthem Danjugan Sanctuary was performed at the 60th birthday Concert of King Carl XVI Gustaf of Sweden.