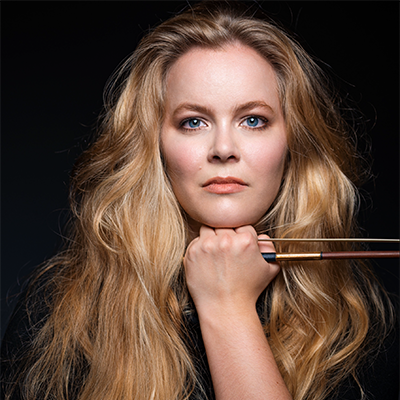 Amalie Kjældgaard was born in Denmark in 1993 and began her academic studies in 2012 at the Royal Danish Academy of Music with prof. Serguei Azizian. Since 2015 she has been living and studying in Vienna at the University of Music and Performing Arts Vienna, where she in 2020 graduated with distinction from her magister studies in the special solo profile with prof. Christian Altenburger. From 2018 she simultaneously did an advanced postgraduate soloist degree at the Royal Danish Academy of Music in Copenhagen with prof. Peter Herresthal.
She enjoys working as a guest concertmaster in several orchestras, and besides being a former academist of Chamber Orchestra of Europe she regularly works with ensembles and orchestras such as Ensemble Intercontemporain, Spira Mirabilis, European Union Youth Orchestra EUYO, ORF Radio symphony Orchestra Vienna, Tonkünstler Orchester Wien, Danish Chamber Orchestra, Danish National Symphony Orchestra, The Royal Danish Orchestra, Grafenegg Academy Orchestra, Alba String Quartet, Phace Ensemble, Iceland Symphony Orchestra, Athelas Sinfonietta, Danish Chamber Orchestra etc.
A big passion for Amalie Kjældgaard is to work on social development projects as a guest teacher, and she has done several projects through EU and El Sistema Europe – amongst others in Turkey, Austria, England, Myanmar, Norway, and Denmark.
Both as chamber musician, teacher and soloist Amalie Kjældgaard has distinguished herself on the European stage through numerous festivals, academies and competitions, which includes being a 2021 Léonie Sonning Talent Prize recipient. Amalie has always had a big interest for contemporary music, and she is both co-founder and member of the contemporary Viennese ensembe, Ensemble N, besides already having had several pieces written for her.