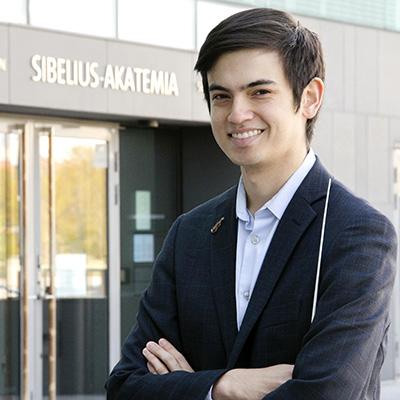 Sounds of Luosto artistic director Aku Sorensen is a Finnish-American conductor and violinist, born and raised in the San Francisco Bay Area of California and currently based out of Helsinki, Finland.
A blossoming early career has led Sorensen to conduct major orchestras in Finland and around the world, including, among others, Sinfonia Lahti, the Lapland Chamber Orchestra, Jyväskylä Sinfonia, the Lohja City Orchestra, and the Jungen Tonkünstler Orchester.
As a violinist, Sorensen is an accomplished orchestral player, having led and played in ensembles such as the Lapland Chamber Orchestra, Vaasa City Orchestra, Sibelius Academy Symphony Orchestra, and Sibelius Academy Chamber Orchestra to name a few. Sorensen is also a founder of the Helsinki Chamber Orchestra, and currently serves as the ensemble's concertmaster.
Sorensen has performed in numerous chamber ensembles, including nearly 5 years as first violinist of the award winning "This End Up" string quartet. He has performed in masterclasses and side by side concerts with such luminaries as the Alban Berg, St. Lawrence, Borromeo, and Escher String Quartets.
He was a finalist in the Ilmari Hannikainen Piano Chamber Music Competition along with his Kakadu piano trio in 2020. Sorensen is a major advocate for contemporary music, frequently performing premieres of new works by young composers, and has worked for years as a producer of contemporary music projects.
Sorensen is now pursuing a master's degree in conducting at the Sibelius Academy of the University of the Arts, under the tutelage of Sakari Oramo and Hannu Lintu. He has previously received tuition from conductors such as Jorma Panula, Johannes Schlaefli, Sir Roger Norrington, Peter Eötvös, Jukka-Pekka Saraste, and others.
Sorensen holds a Bachelor's of Music from the Sibelius Academy in violin performance, completed under the guidance of Merit Palas.